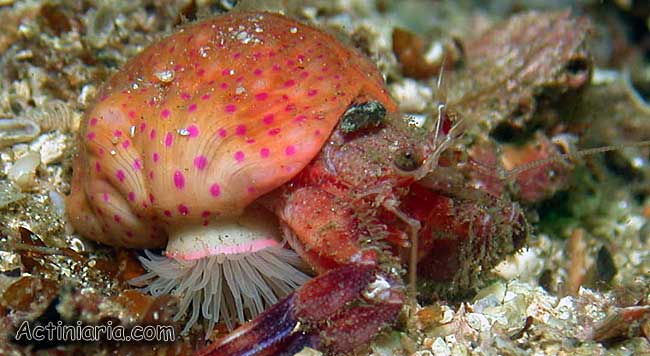 Adamsia palliata or the Cloak anemone lives almost exclusively on hermit crab Pagurus prideaux (or Pagurus exacavatus). One or rarely two specimens may occur on each crab. Although Pagurus prideaux and Adamsia palliata almost never occur separately their symbiosis is not strictly obligate and unlike hermit crab Pagurus prideaux, Adamsia palliata (according data of Ates, 1995) can survive for more than three year in aquarium without hermit crab.

The species has characteristic shape and color pattern with round lilac or red spots on the body and hardly can be confused with other sea anemone species.

Manuel (1981, 1988) in his revision of British Anthozoa applied to this species a name Adamsia carciniopados. However Cornelius and Ates in 2003 shoved that Adamsia palliata is a valid name for this species, and the author of this name is O.F. Mueller, 1776. Fautin (2016) in her catalog to families, genera, and species of Actiniaria probably overlooked the work of Cornelius and Ates (2003) and wrongly gave authorship of the species as Fabricius, 1779 (with a reference to Daly, Ardelean, Cha, Campbell and Fautin, 2004).

Update from 03 November 2019:
A nomenclatural problem around Adamsia and related (or synonymous) Calliactis has been created recently by Gusmao, Rodriguez and Daly (2019). These authors synonymized genera Adamsia and Calliactis. They correctly stated that Adamsia is an older name and has a priority, i.e. the generic name Adamsia must be used instead of Calliactis by anyone who considers that these genera indeed are synonyms. However, for some (rather weak from our point of view) reasons these authors preferred to maintain the use of junior (=invalid) synonym Calliactis over senior (=valid) synonym Adamsia. Such cases are regulated by Article 23.9 (entitled "Reversal of precedence") of International Code of Zoological Nomenclature. The main goal of this article is to prevent introducing very old forgotten names over widely accepted names which were discovered to be invalid. In accordance with the Article 23.9.2 Rodriguez and Gusmao (2019) submitted a request to International Commission on Zoological Nomenclature (case 3805) to give a precedence to Calliactis over Adamsia. We see no reasons why a precedence should be given to Calliactis over Adamsia, but now we all have to wait a decision of Commission (it may took several years). In their paper above named authors wrote: "While the case is under consideration, the junior name is to be maintained; thus, here we use Calliactis for species formerly included in genus Adamsia." This decision (the usage of junior name Calliactis oved older Adamsia while waiting a decision of Commission) is wrong and is based on incorrect interpretation of Article 23.9.3. This article refers to Article 82.1 which reads: "When a case is under consideration by the Commission, prevailing usage (see Glossary) of names is to be maintained until the ruling of the Commission is published." The key phrase here is the "prevailing usage". Both names, Adamsia and Calliactis, were (and are) widely used as valid names by numerous authors, each name is prevailingly used for corresponding species, i.e. Adamsia prevailingly used for several species assigned to Adamsia, while Calliactis was prevailingly used for several species assigned by various authors to Calliactis.
---