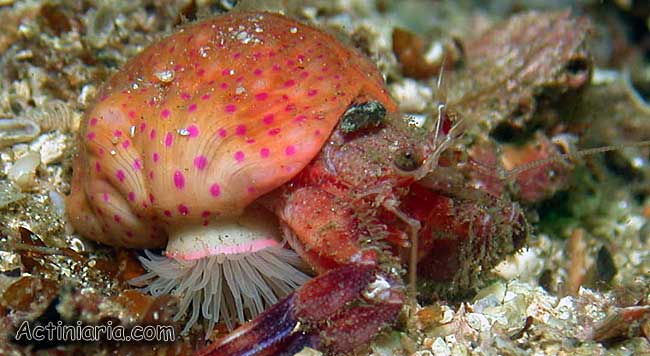 Adamsia palliata or the Cloak anemone lives almost exclusively on hermit crab Pagurus prideaux (or Pagurus exacavatus). One or rarely two specimens may occur on each crab. Although Pagurus prideaux and Adamsia palliata almost never occur separately their symbiosis is not strictly obligate and unlike hermit crab Pagurus prideaux, Adamsia palliata (according data of Ates, 1995) can survive for more than three year in aquarium without hermit crab.

Manuel (1981, 1988) in his revision of British Anthozoa applied to this species a name Adamsia carciniopados. However Cornelius and Ates in 2003 shoved that Adamsia palliata is a valid name for this species, and the author of this name is O.F. Mueller, 1776.

The species has characteristic shape and color pattern with round lilac or red spots on the body and hardly can be confused with other sea anemone species.
---